Bleeding Cool's journey through the Sun & Moon era of the Pokémon TCG continues. After our spotlight series breaking down the first three sets of this block (Sun & Moon base, Guardians Rising, Burning Shadows), we now move to a set that introduced a new card type to the Pokémon TCG. Sun & Moon – Ultra Prism was released on February 2nd, 2018 and introduced Prism Stars to the hobby. This style of holographic card could be pulled in the reverse holo slot, making for quite a dynamic pack-opening experience. This set also includes one of the most valuable and sought-after cards in all of the Sun & Moon era. Let's take a journey through the best cards from Ultra Prism.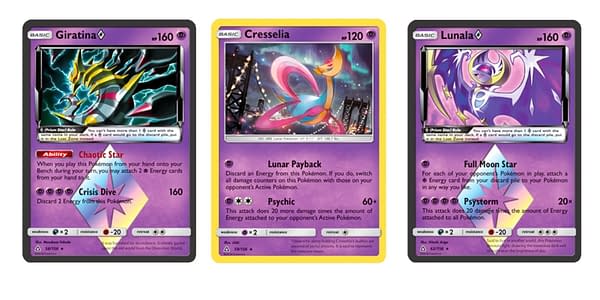 Giratina Prism Star: Here we have the first Prism Star in Sun & Moon – Ultra Prism, the set that introduced this new style of holo. While the background of the card used the same foil pattern on standard Sun & Moon era holos, which looked like rippling waves, the foil diamond on the text part of the card and the elegant black borders set these apart visually. Best of all, these cards could be pulled in the Reverse Holo slot, which increased the number of pulls that one could expect in a booster box. Giratina was a great way to launch this style of card, with stormy artwork that gleamed when light hit the foil.
Cresselia: While the wavy holo pattern was largely unimpressive, certain holo rare cards presented artwork strong enough to make it work. Such is the case with this Cresselia, which seems to virtually glow on the surface of the card.
Lunala Prism Star: The light pink artwork of this Lunala card made it a great choice for a Prism Star. While the Giratina artwork seamlessly blended with the black elements of this special style of card, Lunala's vibrant art made the darker borders stand out, giving us a clear look at the details of this unique pull.
Next time, the spotlight on Pokémon TCG: Sun & Moon – Ultra Prism continues with a focus on more cards from the set. To follow this series, click the Ultra Prism tag below.