Am I doing this to Poison Ivy? It appears so. Because you remember the fuss that the appearance of the Batpemis had in Batman: Damned #4, right? The fuss which reached mainstream news and was even mocked on The Late Show With Stephen Colbert saw the dismantling of DC Comics editorial procedures and, eventually, contributed to the dismissal of publisher Dan DiDio.
Harley Quinn: The Eat, Bang And Kill Tour #4 by Tee Franklin and Erich Owen already has had plenty of Bleeding Cool attention as a result. Spinning off from the adult animated series, and written in a similar adult tone, but with more of the DC Universe to explore and reinterpret, Tee Franklin had the character Vixen using her power to harness the spirit of animals to, as Franklin put it, "eating pussy with a giraffe tongue."
Well, the latest twist to that issue might need a magnifying glass. Because a few people are trying to get the issue classified at the first appearance of Poison Ivy's vulva. Or bush, as this article's headline had it. And have been clamouring for Bleeding Cool to notice as well. The comic features the recently married Harley Quinn and Poison Ivy in bed together. And a darkening of colour that is either a) shadow b) underwear (the most likely) or c) Poison Ivy's punani (the explanation some people really, really want).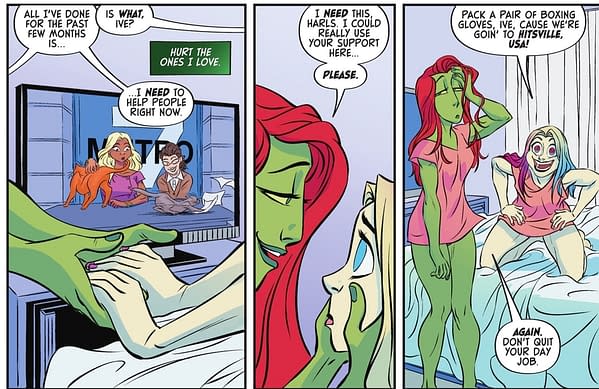 Now it's not as… out there as Batman Damned. But combine that with the giraffe tongue moment and this comic could be one of the more controversial DC Comic titles they published in 2021.
HARLEY QUINN THE ANIMATED SERIES THE EAT BANG KILL TOUR #4 (OF 6) CVR A MAX SARIN (MR)
(W) Tee Franklin (A/CA) Erich Owen
After being called out by a new villain known as Mephitic, a toxic sludge aiming to stink up the joint, Ivy and Harley head to Detroit to take matters into their own hands. But Vixen isn't having all this chaos in her city, and she's ready to clean up the place… Retail: $3.99